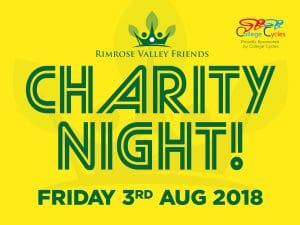 Join us for an evening of fun and fundraising for a very worthy cause!
The event will be held on Friday, 3rd August at the St William of York Parish Centre, Thornton and run from 7pm until midnight.  Every penny we raise on the night will go towards funding our campaign to fight the proposed road.
Please come along for what promises to be a great night of fun, games and entertainment and meet some of the team who are fighting for a better future for our communities.
Tickets are limited, so don't miss out.  See below for details on how to book.
What do you get in return?
• Free entry into the draw for the sponsor's main prize – A women's hybrid, or child's bike – courtesy of College Cycles
• Live Music
• Disco
• Opportunity to buy tickets for a raffle and "sit-down" bingo with great prizes to be had
• Charity auction – with some fantastic lots up for grabs
• A great night out with family and friends with a shared passion for Rimrose Valley
***TICKETS NOW ON SALE***
Call us on 0151 558 1105 and leave a message, or email stu@rimrosevalleyfriends.org
We just need your name, contact number and the number of tickets you wish to reserve. We'll then arrange a time/place to get them to you.
See you there!
What you can do now: