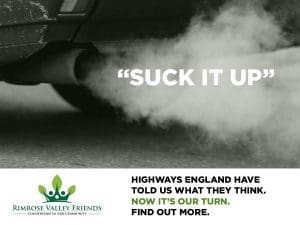 Christmas for thousands of residents who rely on Rimrose Valley for their essential green space and fresh air was spoiled by Highways England last week as they used the festive season to repeat their mean spirited and antagonistic position that a tunnel option has been dismissed and will not be reconsidered.  Their recent press release on 21st December, 2017 restated that they have no interest in finding an acceptable alternative to ploughing a dual carriageway through the essential green space that is Rimrose Valley.
Many people took to social media to air their anger, upset, frustration and shock at the ill-timed and high-handed response to Sefton Council's call for a Judicial Review.  Residents united in calling for alternative options to be considered to put an end to this threat of mindless vandalism.
Si Smith, Chair of Rimrose Valley Friends, said:
"Highways England has once again displayed a short sighted and ignorant approach to solving a particular problem. None of what they say changes the fact that the consultation process was total folly and essentially ignored public opinion and all viable alternatives.  They have compared the cost of a tunnel against a surface road without having conducted any proper analysis.  They cannot be allowed to state imaginary figures designed to force their plans through without having properly researched the other options, and therefore the public, Rimrose Valley Friends, Sefton Council, our MPs and other groups are all standing firmly against the plans.  We simply cannot rest and allow this large-scale act of mindless vandalism to happen before our eyes.
Even though Highways England has not once looked properly at a tunnel or other options, they are saying the other options are too expensive.  They are making these sweeping assertions without evidence and we demand to see the other options being properly researched and presented to the public.
To justify their figures, Highways England has simply projected financial costs and gains over a relatively short period of time. This is totally misleading. To understand and calculate the true long-term costs of a surface road against other options, they must be projecting costs and gains over a lifetime of 50 to 70 years or longer, not just over a few years as they are currently doing.
Furthermore, they are not taking any account whatsoever of the financial costs caused by the erosion of people's mental and physical health."
Stuart Bennett of the Rimrose Valley Friends Road Action Group added:
"You could be forgiven for thinking that this paints a very grim picture of what lies ahead for us in 2018.  However, there is an alternative view.  We believe that Highways England's statement is a reaction to the level of opposition they are beginning feel.  It is, perhaps, an act of defiance in the face of what amounts to a very real challenge to their plans to build the road.  With organisations such as the Campaign for Better Transport and the Campaign to Protect Rural England already on our side and committed to fighting our cause, sooner or later Highways England will be forced to sit up and take notice, not only of the judicial review being brought by Sefton Council, but also of our own, parallel campaign to Save Rimrose Valley.
Highways England's argument that a tunnel is not viable purely on the grounds of cost continues to pay absolutely no consideration to the very real, long-term impact that polluted air and the loss of vital green space will have on our NHS, to give just one example.  In truth, a surface road is a 'quick win' for Highways England, with a huge impact on the surrounding communities for generations to come.  Let's not forget that this is the result of terrible planning, with the super port being developed without a transport infrastructure having first been delivered."
Rimrose Valley Friends has launched a long term 'Save Rimrose Valley' campaign and will continue to coordinate activities that will both keep the public working together locally against the road threat and to also raise understanding and awareness to the Westminster decisionmakers.  People can search on Facebook for 'Save Rimrose Valley' and like our Campaign News page in order to keep up-to-date on our activities.
What you can do now: