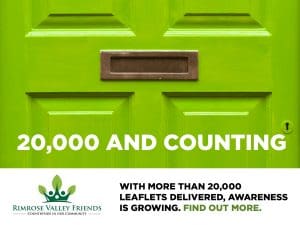 The leaflets for our first leaflet drop are now fully distributed. It's been a great success with over 20,000 homes leafleted to raise awareness of the threat to our green space and it brought us some press coverage.  It's been startling to see just how many people weren't aware of the plans to build the Dual Carriageway through our precious Rimrose Valley, but it's great that so many more people are now aware.
Huge thanks to all the tireless volunteers who pounded the streets, plus a special thanks to both Tracys who organised the whole thing, and to Sally who designed the flyer.  Brilliant work, and as a result thousands more now know what's going on and are ready to throw their support behind us.
You can download the leaflet here if you'd like to print/share any copies yourself.
What you can do now: