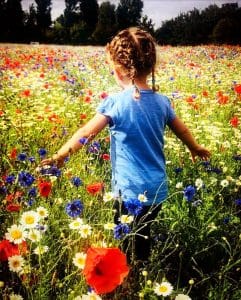 We're 4 months on from having sown the wildflower meadow and by and large it seems that this has been a great thing to do.  The project has created something beautiful on Rimrose, breathed new life into that part of the park and is attracting visitors from far and wide.
Mission accomplished!
The photos which have flooded our social media pages are AMAZING.
The project has also opened up new opportunities.  The Council is looking into extending it to other sections of the park and we are also exploring the possibility of another project to reinstate the running track which surrounds it.  We've always been aware how fondly this is remembered and how much it is missed.  Ideally, this would be fully-funded by a suitable grant; or another crowd-funding initiative if that isn't possible.
BUT…
We have obviously seen (and been made aware of) many posts and comments about the meadow's use, so we wanted to share our views on this.
We are worried that people are in danger of losing sight of what the wildflower project was all about; which was the community coming together and chipping in to do something really positive, in the face of something so negative.
On this front, it has been an incredible success.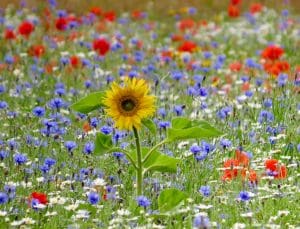 In relation to trampled flowers and pathways, the fact is that none of us 'own' the meadow – it is just one part of Rimrose; hopefully for many, many years to come.  RVF facilitated the project to create the meadow, but we aren't responsible for it and don't want to police its use.
Whether people walk through it, walk around it, or don't go anywhere near it… it's everyone's park and people will use it as they see fit.
A big part of this is the novelty of the meadow and people being excited about it.  The flowers will soon die off and we'll have to wait another year for the meadow to return.
When this happens, please let's not forget what a brilliant thing many different people helped to create and how this can be enjoyed in many different ways.  We hope that the meadow is respected but it is there to be enjoyed and is now part of the unique wild green space that is Rimrose Valley.
If it is truly being vandalised on a large scale, this should be reported and acted upon, but as far as we can see, it isn't.
It would be great if we can get back to the positivity!
There are much bigger things to worry about, such as Rimrose Valley itself being destroyed by an enormous road.
We hope that everyone can unite around this one thing and move on.
Above all, if you love the meadow, please help us to fight for it and the future of the whole park by following our campaign on Facebook and Twitter, visiting our website, sharing our news with your family and friends and getting involved.  You can even sign up to the charity's membership scheme to support our ongoing work.
Maybe together we can achieve something even more amazing: protecting our green space for future generations to enjoy.
Thank you.
Rimrose Valley Friends