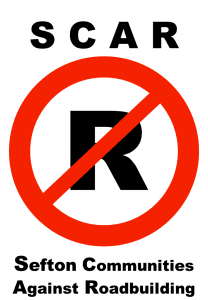 A residents-only campaign group is close to launch, called "Sefton Communities Against Roadbuilding" or SCAR.
It's a community-led group aiming to give residents a voice regarding the impacts of local road development options. The launch later this month will be well in advance of Highways England's anticipated January announcement on which road "option" is favoured, and that will mark the start of SCAR's campaign proper.
SCAR will not be politically motivated and will organize a legitimate and legal campaign for alternative options to roadbuilding and ways to reduce traffic in Sefton. SCAR will also strive to independently establish clear facts surrounding road impacts without any bias.
The SCAR team is asking people to "sit tight" until the inaugural volunteers behind the official launch are ready.
Speaking with one community voice from a rational basis of facts is the way SCAR wants to proceed.
Details of the website and how to sign up will follow shortly.