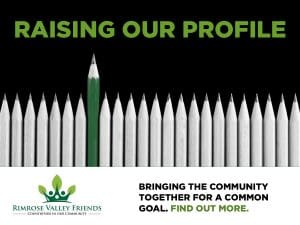 We have two main objectives to our campaign.  The first is to change the minds of those in power at Westminster and get them to reverse the decision to build the road through Rimrose Valley.  The second is to bring the community together and to raise awareness of what a wonderful place and resource Rimrose Valley is!
To help progress this second objective, we have recently been represented at St Faith's Christmas Tree Festival and had a very positive response from everyone who came up and spoke to us about the Valley and our campaign to stop the road.  There was a fantastic atmosphere in the church and it was great to be a part of something so special.
In addition to this, we took part in St Mary's Church Christmas Fair on 2nd December and once again had our display stand in place to promote our cause.  It was heartening to hear so many people share their stories of the Valley and also share our goal to save it.
If you are aware of any other opportunities for us to set up our stall, please let us know by contacting us here and we will do our very best to be there.
More recently, we held a Santa Dash on Rimrose Valley on Sunday, 17th December.  Despite the 'challenging' conditions, it was well attended and there was a great atmosphere amongst all participants.  Beginning at the Glenwyllin Road entrance, a children's 1K was followed by a 5K, where an assortment of Santas, Elves and other Christmas characters dragged themselves through the mud.  Huge thanks must go to Len and Gail for organising this event and to everyone else who volunteered their help on the day.
More events and activities will take place in 2018.  We would love you to get involved.
What you can do now: