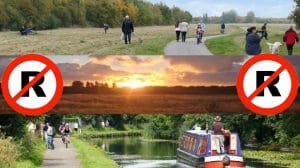 Welcome to our first weekly update from the RVF Road Action Group.
Please continue to sign and circulate our petition and voice your support to stop the road.  At the time of writing we're up to 6,230 supporters. Not bad for 1 week.  Let's work hard to make it thousands more. We need more local action to maintain and grow support so spread the word. Tell your neighbours about the dual carriageway and tell them to pass the word around.  Everyone must know what's happening to get behind the fight.
Following last week's announcement by Highways England to destroy Rimrose Valley with a dual carriageway, the RVF Road Action Group met on 6th September. Comprising the existing RVF Core Team plus 12 new leaders who have come on board to help lead the fight, we started to scrape the surface of what needs to be done. The meeting ended with a long list of actions, and everyone has since wasted no time in moving things forward.  We have a further planning meeting in the evening of 14th September where we will forge a way forward, with coordinated and carefully planned actions.
Over the coming weeks we will be meeting with MPs, councillors and officers from Sefton Council to ensure we work effectively together in this shared fight. NO-ONE wants the road, so we will fight it together. Together is better.
In the morning of 7th September a delegation of Rimrose Valley Friends and members of the community met up with BBC North West Tonight to let our views be known. A great turnout given the short notice, and a lot was said, but not a lot of our message made it to the final cut.  We were disappointed with how the BBC played down our plight.  Clearly more needs to be done to get the media onside.
We will endeavour to issue a weekly update but please remember we're all unpaid volunteers and whilst we care deeply and passionately about protecting Rimrose Valley we're all very busy with our own lives too and we ask for understanding if our communication may not be 100% all of the time. Be assured we're doing absolutely everything we can and if it looks like we're not doing enough it's because not everything will be on display.  There's a huge amount to do, we've got some great skills and areas of expertise on the team, and we will ask for more volunteers as the need arises.
Thank you
Your RVF Road Action Group