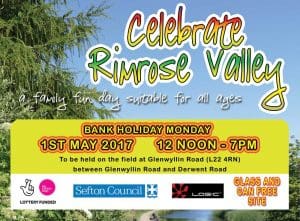 Rimrose Valley Friends, the local community charity that supports the people of and the essential green space that is Rimrose Valley are very excited to be hosting a Family Fun Day this May Day Bank Holiday, 1st May 2017.
After successfully applying to the Big Lottery Fund's Celebrate programme, Rimrose Valley Friends has been awarded £9,922 plus an additional £4,250 donation from local councillors and businesses.
On the day, all corners of the community are invited to come together to celebrate the beauty and wonder of Rimrose Valley with admission and many attractions free of charge.  Rimrose Valley is an important part of the local area because it joins the communities together crossing social divides and providing health, relaxation and educational benefits to all.
Please come join us and spread the word – invite your friends and neighbours.  May Day Bank Holiday, 1st May 2017 from 12 noon to 7pm!